Lewis Brice is a singer/songwriter from Sumter, South Carolina who has been on my short list of artists that I wanted to interview for several years. He and his talented brother Lee Brice have an innate gift for putting words to music in a manner that relates to so many.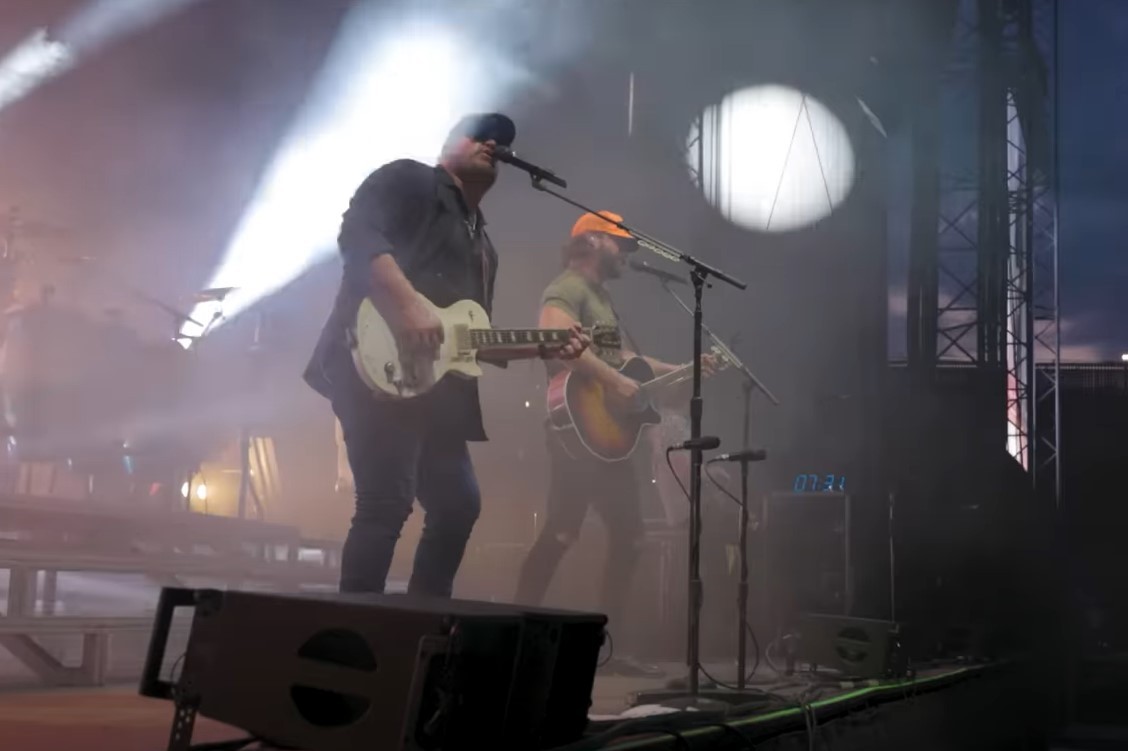 Lewis Brice comes from a musical family. His mother was in a traveling gospel group called the Lewis Sisters. His dad who he admitted can "sing the phonebook" is still a part of a gospel quartet. And while he never had a formal voice or music lesson, he taught himself guitar and learned the chords he would need to accompany himself playing.
Brice's mother was a huge Linda Ronstadt fan. He recalled, "My mama had Linda Ronstadt playing all the time so as a kid, I would hear it, loved it, and sang along."
Initially, Brice wanted to be a chiropractor. But when he learned how long you must go to school to become one, he decided to follow his older brother and move to Nashville. At first, he played at a place called 12th and Porter (now closed) where he learned 25 cover songs that could "take me through a three-hour set."
But instead of trying to make it big on Broadway in Nashville, Brice took his band to Key West where they would make enough money to commute between the two cities. He did that for about two years until he got a publishing deal which allowed him to focus on writing and starting a solo career.
He told me, "I really, really wanted it. I could have done some other things, but music is my passion and I feel that is what I was put on earth to do."
And while I love his gritty, rocking, country vocals, if the songs don't speak to me, the rest doesn't matter. Inspired by his now wife, Denelle, his heartfelt song, "It's You (I've Been Waiting For)," has had nearly 15 million streams on Spotify alone.
He reminisces about his simple, but wonderful upbringing, in his hit song, "Blessed." With lyrics like I'm blessed I got everything I need / I'm blessed I got love all around me when times get tough I tell / Myself it's okay Imma be all right because I'm blessed got another / Day to breathe I'm blessed good here the / Family remind myself that each and every… day he proves that he knows what really matters. "Blessed" even won a British CMA.
Matthew McConaughey's quote from Dazed and Confused, "Let me tell you this, the older you do get, the more rules they're gonna try to get you to follow. You just gotta' keep livin' man, L-I-V-I-N" inspired Brice to write a song by the same title. In "LIVIN" he talks about life on the road in the up-tempo song and the energy that comes from being in that environment. The video for "LIVIN'" was filmed throughout five different shows with four different videographers capturing footage that puts the viewer amid the county music concert world.
When I'm out on the road getting to do what I love, that's when I feel like I'm livin'," Brice shared.
Previously, Lewis Brice put out an EP and several singles which have amassed more than 50 million streams collectively. Last week he released his debut record, Product Of, a collection of ten songs on which he co-wrote every song. The songs are somewhat of a diary of his life experiences, past and present.
Lewis's brother Lee is featured on the title track, "Product Of". Their parents are the inspiration for the song and how they were raised in the sleepy southern town of Sumter, nestled quietly between the mighty Atlantic Ocean and the picturesque Blue Ridge Mountains.
Lee Brice told Nashville Insider, "My brother Lewis is one of the most determined and hardworking people I know… he's worked his tail off crafting his songwriting skills, and when I heard this one – 'Product Of'…man, this one really moved me; makes me wish I would have been in that room that day."
And while not everyone may relate to the lyrics Boy meets girl in a homeroom class / Starts thinking forever can't come too fast / Puts some overtime money down / On a ring and a half acre piece of ground / Before you know it, they're painting the front room blue / Taking a lil' hell raiser to Sunday school / Thanking God everyday 'fore the sun comes up / For the small-town love, I'm a product of / Yeah, I'm a product of / Yeah, I'm a product of …for those of us who were raised with the small town attitude, the song hits home.
He explained, "There's a lot of people out there who don't have a great family like I did, and I don't take that for granted at all. I'm definitely blessed in that world when it comes to my mom and dad."
Since its release, "Product Of" has amassed millions of streams and has been featured on key playlists including Spotify's New Music Friday Country, Next From Nashville, Heartland Country and All About Country, Apple Music's Fresh From Nashville and New in Country and Amazon Music's Breakthrough Country.
Other notable tracks include "First Time" "Right Love" and "Sad Song" (as in I can't sing a sad song) which were inspired by Brice's wife. Even the somber tune "Shadow" refers to the shining light which is his wife, Denelle."
The first track released off his debut record was, "Thanks For The Heartbreak," a song that he co-wrote with his pals, Kyle Jacobs (RIP) and Adam Wood. Initially, the singer is lamenting his heartbreak but by the end, he sees it was for the best.
And while Brice is now happily married, he has had his share of heartbreak and it is often those songs that people find most relatable.
"People need to know that they are not alone when there are bad situations," he advised.
The song "Goodbye Beer" was inspired by one of Brice's co-writers who spent $15,000 on a ring only to be dumped as his fiancé ran off with his best friend. It is an awful situation, but the best way to get over it is to write/sing/listen to a fun, devil-may-care fiddle-sawing song to which many can (unfortunately) relate. "There ain't nothing colder than a goodbye beer," the song exhorts. Misery truly does love company.
Brice described his album, "These songs are part of my life where there's been breakups and separation. There's been love and a first dance or just a peaceful time. Each one of these songs has a little different piece of me in them. It takes you on a journey when it's all summed up. It is a product of where I came from and who I am and what I've been through."
He emphatically stated, "If a person can relate to [one of] my songs and change their direction whether it's good or bad, (but hopefully for the better) then I feel like I've done my job."
Lewis Brice has been named by both Rolling Stone Country and Billboard as an 'Artist to Watch' and is celebrated for his high-octane live show. He has shared the stage with acts like Luke Bryan, Dierks Bently, Hank Williams Jr. Gary Allan, and Lee Brice just to name a few.
With his small-town work ethic and a powerhouse voice that is at the "intersection of country, southern rock, and R&B," Lewis Brice is a name that other performers will be begging to have on their concert schedule. Top to bottom, Product Of is one of the best debut records I have ever heard.
You can follow Lewis Brice on his website, Facebook, Instagram, Twitter, TikTok, YouTube, and all streaming platforms.
– – –
Bethany Bowman is a freelance entertainment writer. You can follow her blog, Instagram, and Twitter.