Doing what I do, I get sent a lot of artists to check out. A Facebook friend told me to check out the Jaye Madison band. I listened and they could absolutely sing. But normally I deal with PR representatives or managers. In a few days, I got contacted by 37-Media about this amazing new duo, Jaye Madison. This time I really paid attention. Their song "Down" was unlike anything I had heard in a while. It wasn't country, but it did have a rock/soul/R&B vibe and it was outstanding.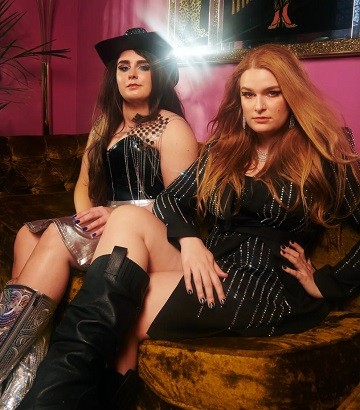 I scheduled an interview with sisters Jordan Skinner-Stoute and Madison Skinner who are fraternal twins from Lumberton, Texas.
The two, who favor but don't look just alike, have what they call and yin/yang relationship where they compensate for each other's weaknesses, and enhance each other's strengths.
Their mother is an English teacher, but their grandmother was the church pianist, and like the majority of artists I interview, they got their start singing in church.
They were surrounded by country music, folk, and blues music from Elvis, Willie Nelson, Etta James, and The Judds.
"But we also have love of classic rock, spending hours dancing in the living room to The Eagles, (their favorite) Heart, Chicago, Janis Joplin, Fleetwood Mac, and every 70s and 80s hit you can imagine," recalled Jordan.
As kids, they were big into musical theater and that is where they got their "flair for the drama." In high school, the pair played Elle Woods and her best friend Vivian in "Legally Blonde" the musical.
They grew up singing, studying, and honing their vocal skills and performing in community theater, dreaming of a music career one day, but as they reported, were "songwriter late bloomers" who didn't even write their first song until they headed to Nashville after they were accepted into the Commercial Voice program at Belmont University. It was at that time they realized that they wanted to pave their own path and write their own stories.
"When we got there, we quickly realized we'd have to sharpen our writing skills immensely if we wanted to do this for real," said Jordan.
As far as the songwriting went, Jordan explained, "It's a unique experience growing up with a built-in best friend who experiences the same life milestones at the same time."
They are songwriting partners who write about their journey sharing their experiences coming into adulthood and beyond.
"Jordan's writing leans more towards the light side, mine leans towards the dark," says Madison. "So together those sounds create soulful introspection that feels like a painting of realistic womanhood. Joy, sadness, anger - we cover it all."
"We write from a really authentic place and it's kind of landed us in between genres," confirmed Jordan.
"And we sing from the heart," Madison reminded.
It was their grandmother's recent passing that prompted the duo to "stop procrastinating and start chasing after what we want to do."
During the pandemic, the sisters attended a virtual production workshop by Grammy-Award Winning producer, Mikal Blue.
They sent the LA producer their demos and to their surprise, he agreed to work with the pair.
"Half the battle of being an artist is having the bravery to take chances. It's not a 'no' until you ask," Madison emphasized.
"He was very artist-centric and was a producer who really listened. He would bring the stories that artists had in their minds to life," stated Jordan.
Their newest project, MIRЯOR, the album, will be released in 3 EPs throughout the year beginning with the first installment MIRЯOR: Framework, followed by MIRЯOR: Vision, and MIRЯOR: Breakthrough.
Released on March 31st, the MIRЯOR: Framework EP contains the songs "Catch 22," "Shadow Man," "In The Grey, " and "Devil I Know." The music is as diverse as the artists themselves.
"It's a real-life reflection of our journey in our early 20s, navigating life and this dream of ours to create music and create our own path. It's about coming home to yourself," Jordan shared.
Their PR team describes their sound as "Honey poured over a gravel road, gritty and smooth, sweet and rough, a dichotomy you get when you combine the emotional vocals, beautiful harmonies, and emotive storytelling."
With the great scope and depth of the singing and songwriting, Jaye Madison signed a sync deal with Rock Salt Music, a firm that provides music to some of the biggest brands on the planet.
Because of their unique sound and abilities, they ride the line between rock and country with a dash of R&B when required. They are artists for real musicians who know the difference between good and great.
"Some songs are more rock, and some are more country. But it all just flows together," they confirmed.
So even if they aren't pigeonholed to a particular genre or radio station, the right people are going to take notice. I am looking forward to hearing everything they release this year and in the future.
You can follow Jaye Madison on their Website, Instagram, Twitter, Facebook, YouTube, Spotify, and TikTok.
– – –
Bethany Bowman is a freelance entertainment writer. You can follow her blog, Instagram, and Twitter.